By Nic Bartell | August 13, 2015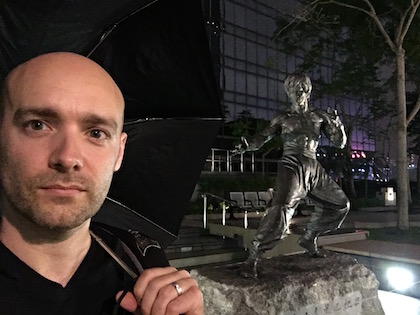 Sifu Nic "Moy Wu Tung Shan" Bartell is a 12th generation Ving Tsun Disciple (12G VT - great grand-student of Moy Yat) and a direct Student of Sifu Aaron "Moy 10 Tung" Vyvial. His SiGong, Grandmaster Moy Tung, is also highly involved in Sifu Bartell's continued training in the Ving Tsun system and has accepted Sifu Bartell into his Grand Special Student Association.
Growing up with an early interest in martial arts, Sifu Bartell began his martial arts training studying Tae Kwon Do at the age of ten. After moving to Houston in his teens, Sifu Bartell continued up through high school exploring other forms of martial arts, including JKD, Muay Thai, and Jujitsu. Being left with a sense of incompleteness and knowing that the roots of JKD were deeply tied to the Ving Tsun Kung Fu system, Sifu Bartell decided to investigate the relationship between the two styles in hopes of obtaining a more comprehensive understanding of what he had learned from training JKD. In early 2002, while attending the University of Texas at Austin, Sifu Bartell was opened up to the Ving Tsun system by Sifu Aaron "Moy 10 Tung" Vyvial. Very quickly Sifu Bartell recognized the potency of Ving Tsun and the inadequacies of his previous training. He, therefore, seized the opportunity to dedicate all his martial art training to Ving Tsun, and consequently, became one of Sifu Vyvial's earliest indoor students. Studying in a constant, focused manner as a special student under Sifu Vyvial and a grand special student under Sigong Moy Tung, Sifu Bartell became the first certified Sifu in the Moy 10 Tung clan.
Committed to promoting the Ving Tsun system, Sifu Bartell brought the first Moy Tung Ving Tsun School to Houston Texas in late 2011. Driven to furthering his understanding of the Ving Tsun System, Sifu Bartell continues to travel and train in advanced training sessions across the country.
The Ving Tsun program at the Houston academy is conducted in the same traditional manner as other Moy Yat and Moy Tung schools, including the Austin school where Sifu Bartell studied, the Richmond school where Moy 10 Tung studied, and the Moy Yat headquarters in New York where Moy Tung studied. Sifu Bartell runs the Houston program in a highly focused manner. Efficient, effective, and rational, the Ving Tsun system is presented by Sifu Bartell in a logical, methodical progression.